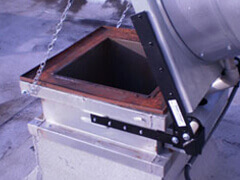 We routinely fix the problem of exhaust fan hinges. The fire codes adopted in Texas (NFPA 96) require exhaust fans to be hinged for proper hood cleaning, allowing thorough cleaning of the fan and the duct below it. Hinging the exhaust fan is not only required by code, it will also help to significantly increase the life of the fan. Exhaust fans are made of very soft aluminum and can be damaged during the cleaning or repair process just by taking an unhinged fan off and setting it on the roof. Hinging eliminates the need to remove the fan as it can be tilted back to allow complete access to your system. Fans that are not hinged can become out of balance and begin to vibrate and make noise. Electrical wiring is more susceptible to damage in a fan that is not hinged. Visit our about us page to know more about our company.
We keep parts in stock to add exhaust fan hinges to most exhaust systems.  Count on us to get the work done fast and in a way that will pass inspection.  There is no need to get dinged for not having exhaust fan hinges in place.  I keep hearing that exhaust fan hinges are becoming a new 'go-to' for inspectors to throw a fine at you.  You might as well get it taken care of now.
Contact us today if you need them in anywhere in Central Texas.  We proudly serve Austin and the surrounding townships and cities. So if you're in Austin, Round Rock, George Town, Cedar Park, Hutto, Manor, Kyle or San Marcos - give us a call.  You'll find us friendly, helpful, and ready to serve!
PRO HOOD CLEANING proudly serves Central Texas for exhaust fan hinges and is fully insured, bonded, certified and licensed.